Star Wars: Galaxy's Edge
Disneyland
Opens May 31, 2019
Star Wars fans will be ready for a galactic adventure of fun and excitement when they step into Galaxy's Edge an outpost of the planet Batuu which will feature two thrill seeking rides, five places to eat including a cantina with a space theme ambiance and five retail shops.
Disneyland Anaheim –  the flagship amusement park will be the first to open Galaxy's Edge on May 31st (reservations required til 6/23). Disney World in Orlando, Florida will open on August 31st. A combined estimated 2 Billion + dollars was spent in the creation of this addition to the Disneyland Anaheim park and Disney World.
For most up to date information about visiting please visit Disney's official website or download the Play Disney Parks app that will be your Star Wars datapad and enhance your adventure. Click here for map.
Rides: On May 31st the first ride –Millennium Falcon: Smugglers Run will open which is an interactive ride aboard the falcon. It is an interactive smuggling mission where you take on an important role to successfully fly a starship and complete the mission. The second larger attraction Star Wars: Rise of the Resistance will open later in 2019. The date for the second ride has not yet been released.
Entrances: There are three entrances into the new Star Wars land.  The first entrance is located right next to Fantasyland, the second is next to Frontierland and the third can be accessed through a trail from Critter Country below the Hungry Bear Restaurant. Click Here for Map.
Reservations: Reservations to visit the new land Star Wars' Galaxy's Edge was sold out in two hours of going live online. Those lucky fans will be able to get a first look before the public from May 31-June 23.
If you were unable to get a reservation the one exception is to stay at one of the three resort hotels on the property in which you will get a reservation if you purchase a valid admission to visit the park. Otherwise you will be able to visit the park with the rest of the pubic three weeks after the opening date on June 24th subject to capacity.
After June 23rd: Disneyland will control the number of people entering the land so that it will be an enjoyable experience for everyone. This will be achieved through the boarding app system (like a virtual queue through their app) beginning June 24th once the land hits capacity. Guests will be notified when they may enter the land with an entry time with a 2 hour grace window to use the pass after your "boarding pass" time has passed.
Star Wars: Galaxy's Edge will not be available during Extra Magic Hour or Magic Morning at Disneyland Park.
Disney FASTPASS service and Disney MaxPass are unavailable for attractions in Star Wars: Galaxy's Edge.
Galactic Dining
Oga's Cantina: a unique themed dining experience. Enjoy unique concoctions (drinks without alcohol available). Click Here for the Menu.
Docking Bay 7 Food and Cargo: galactic grub "familiar flavors but sometimes with unexpected and surprising colors and textures" in a unique presentation. The online menu includes a section for items that are

gluten allergy-friendly and milk allergy friendly

such as the Roasted Endorian Tip-Yip Salad (Marinated Chicken, Mixed Greens, Roasted Seasonal Vegetables, Quinoa, and Pumpkin Seeds, tossed in Green Curry Ranch). Click Here for the Menu. Place your order ahead and pay in the Disneyland Mobile App to save time.
Beverages and Bites for Snacks
Milk Stand: Sip on the blue or green milk that Luke Skywalker famously drank in the films at this cart/kiosk for a snack. Place your order ahead and pay in the Disneyland Mobile App to save time. Menu
Ronto Roasters: Sandwich cart/kiosk stand for a snack. Accepts Mobile Orders. Click Here for Menu
Kat Saka's Kettle: Eclectic food stall for a sweet, savory popcorn snack. Menu
The bottled water is from Dasani
Shopping & Merchants
Black Spire Outpost & The Market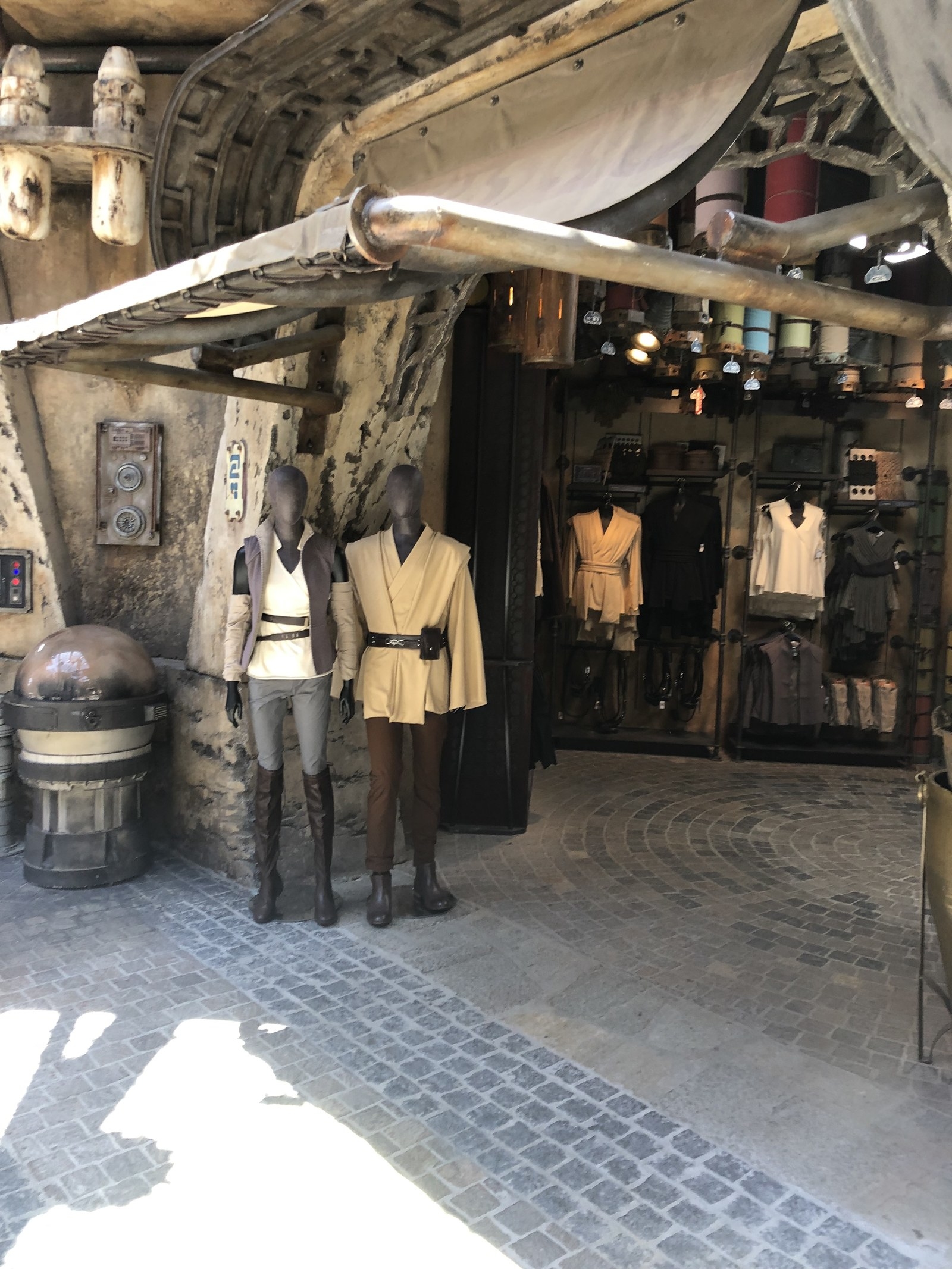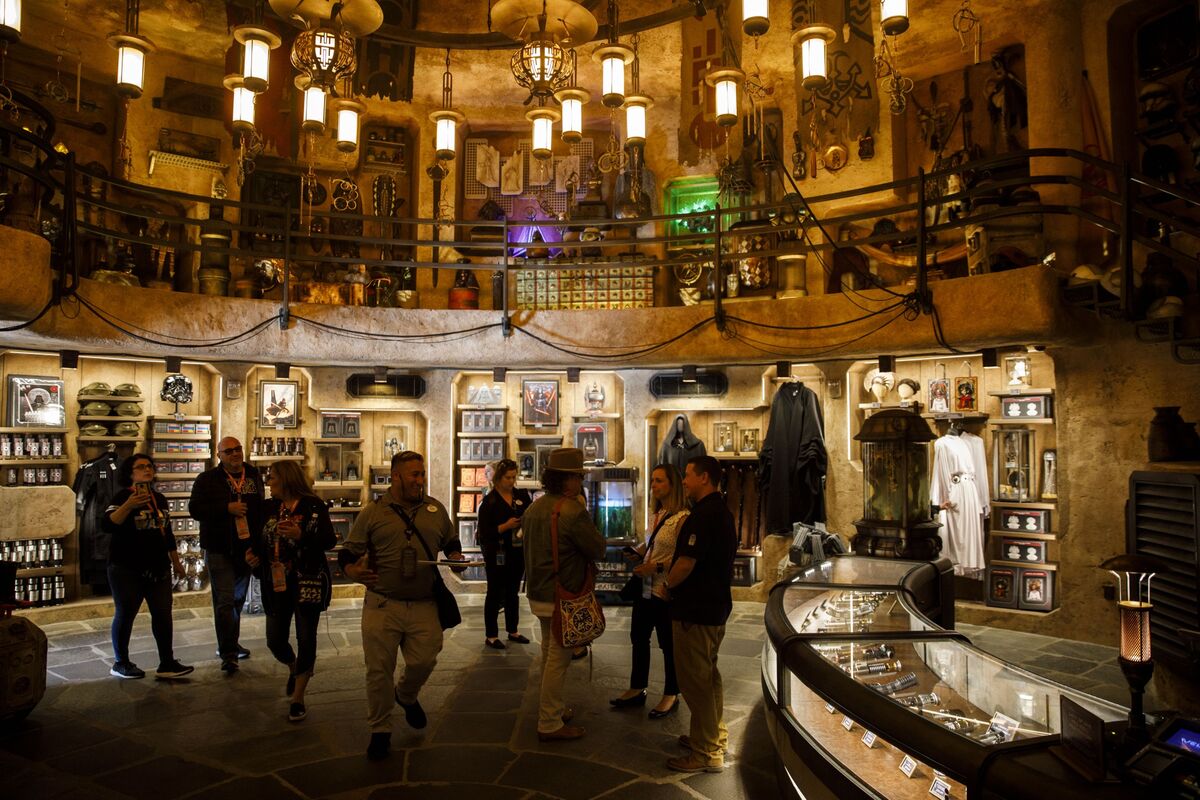 Custom Merchandise: Savi's Workshop (Handbuilt Lightsabers with 4 hilt themes, $199.99 per lightsaber, plus tax) and Droid Depot (Customized Droid, $99.99 per astromech droid unit, plus tax)
Black Spire Outpost Merchants
Dok-Ondar's Den of Antiquities: Galaxy's rarest treasures . Apparel & Accessories; Gifts & Housewares; Toys & Plush; Art & Collectibles; Lightsabers; Star Wars; Holocrons
First Order Cargo: "Proclaim your allegiance to the mighty First Order and shop for recruitment gear and supplies" Apparel & Accessories; Pins & Vinylmation; Gifts & Housewares; Toys & Plush; Art & Collectibles
The Market Merchants
Black Spire Outfitters: Outfit yourself for galactic adventures at this apparel and accessories shop.
Resistance Supply: "Pick up gear that proves your allegiance to the Resistance and helps fight the First Order" Apparel & Accessories; Pins & Vinylmation; Gifts & Housewares; Toys & Plush; Art & Collectibles
Creature Stall: "Discover curious creatures and critters from across the galaxy—and take home a new friend" Toys and Plush
Toydarian Toymaker: "Browse handcrafted toys and collectibles at this whimsical workshop"
T-Shirt: Star Wars Women's Neon Hope Poster Crew Neck Graphic T-Shirt. This shirt is junior sizing so the size small fit me perfectly. You can buy it off Amazon Prime of Fifth Sun's Website 
Jacket: Pilcro Classic Denim Jacket in Petite XXS. My jacket is from a past year but Anthropologie currently sells a very similar Pilcro Class Denim Jacket in Denim Dark and Indigo color.
Boots: Michael Michael Kors Mandy Glitter Stretch-Knit Ankle Boot in Black. Currently available in black/silver sparkle and black for an additional 25% off the sale price online with code SUMMER.
Jeans: Hollister's Classic Stretch High-Rise Crop Super Skinny Jeans in Black Destroy color with ripped detailing. These cropped jeans come in extra short, short, regular and long with sizing starting at 00. I like getting cropped skinny jeans when I wear a stretch-knit ankle boot so the end of the jean just meets the top of the boot and  I don't have to bother to tuck it in.
Coming to theaters on December 20th is the IX installment of the Star Wars movies. For this Epic saga many of your old favorites among them Mark Hammill as Luke Skywalker and Daisey Ridley as Rey will be back as well as some new faces.
Star Wars: Party and Event Planning
Celebrate Star Wars with your friends with a Star Wars themed dinner party or brunch. Enjoy making and packing Star Wars shaped snacks to take with you on the go or plate them to invite friends over to relive your favorite films. Some of my favorite Star Wars themed kitchen products are the waffle maker and the gift crate. Below are links to more Star Wars molds, sets and kitchen supplies from different retailers.
Sur La Table: Find Cookie cutters, ice mold, spatula, rolling pin etc.
William Sonoma: Gift crate, water bottle, waffle maker, cookie cutter, pancake molds, aprons, spatulas etc.
Target: Toasters, cutting boards, popcorn maker, cups, bowls, mits etc.
Recipe Courtesy of Taste Lovely
Prep Time: 15 minutes
Cook Time: 5 minutes
Yield: 5-8 waffles, depending on the size of your waffle iron
INGREDIENTS
2 cups finely ground almond flour
1 cup tapioca flour
1 tablespoon baking powder
1 teaspoon salt
3 eggs, whites and yolks separated
1 cup unsweetened almond milk
2 teaspoons apple cider vinegar
1/2 cup coconut oil, melted and room temperature (not piping hot)
1/4 cup coconut sugar
1 teaspoon pure vanilla extract
Coconut oil spray
EQUIPMENT NEEDED:
Waffle iron
-Star Wars Death Star Waffle Maker from Bed Bath & Beyond or Macys
-Star Wars Millennium Falcon Waffle Maker from William Sonoma
Stand mixer or hand mixer
Cooling rack
INSTRUCTIONS
Preheat your waffle iron.
In a large bowl, sift the almond flour, tapioca starch, baking powder and salt.
In your stand mixer with the balloon whisk attachment (or using a hand mixer), beat the 3 egg whites over medium high until stiff peaks form.
Combine the almond milk and apple cider vinegar and allow to sit for a few minutes while you prepare the other ingredients. This makes it similar to a buttermilk. The almond milk will get a little lumpy.
In a small bowl, combine the almond milk/apple cider mixture, 3 egg yolks, coconut oil, coconut sugar and vanilla extract.
Pour the wet mixture into the dry mixture. Whisk to combine.
Use a spatula to spoon the beaten egg whites into the waffle batter. Very, VERY gently fold the egg whites into the batter until just combined. You want to keep the egg whites as fluffy as possible. This will keep the batter light, give you lots of bubbles in the batter, and will make the waffles light and crispy.
Spray your waffle iron with coconut oil spray. Spoon the waffle batter into your waffle iron, and cook to desired doneness. I like mine crispy and golden brown.
When the waffles are done cooking, transfer the cooked waffles to a cooling rack. Don't put them straight on a plate. The heat from the hot waffles will create steam on the plate, which leads to soggy waffle bottoms.
Serve the waffles with your favorite toppings: pure maple syrup, fresh berries, bananas, almond butter, coconut whipped cream, honey, nuts, etc.
Any leftover waffles can be frozen in a freezer safe ziploc bag for 6 months. You can reheat them in a toaster (if they fit), or bake them on a wire rack rimmed baking sheet at 350 degrees for 10ish minutes until crispy again.